Fishing & Hunting Services in Uptown, LA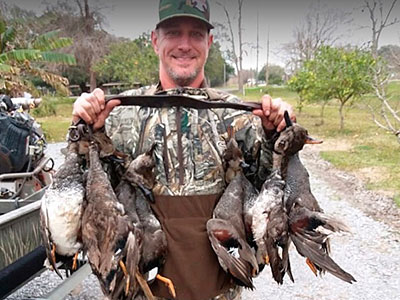 Discover the wonders of the great outdoors with WB Outfitters in Uptown, LA. From the captivating landscapes to the exhilarating adventures, Louisiana offers many outdoor activities for nature lovers and adventurers alike. Our professional guides, trained captains, and chefs provide outdoor experiences that will leave you with lifelong memories.

Take this journey as we take you through the scenic wonders of Louisiana and its surrounding areas, immersing you in the beauty of the state's natural treasures. Let us be your gateway to notable adventures and memorable moments in the heart of Louisiana.


Duck Hunting
There are many reasons to explore the buzzing world of duck hunting with us:


Louisiana offers unparalleled opportunities for duck and hog hunting, and trained guides are here to ensure you have a truly remarkable experience.
With their expertise and understanding of the local habitat, our knowledgeable guides will lead you to the best spots to witness the mesmerizing flight of ducks and geese, from mallards and teal to pintails and gadwalls. The area offers a diverse range of waterfowl species to pursue.
Our guides are passionate about enhancing your hunting skills and ensuring a memorable adventure. With their extensive knowledge, expert guidance, and effectual calling techniques, they will elevate your hunting experience.
Feel the thrill of the hunt as you navigate these picturesque terrains and create lasting memories.
Executive Chef Services
We believe that extraordinary dining should complement exceptional outdoor experiences and:


Our executive chef services are designed to take your journey to the next level by offering a delectable selection of dishes.
After a day of outdoor activities, treat yourself to a special feast prepared by our talented chefs. They carefully select the finest local ingredients, including fresh seafood and locally sourced produce, to create tantalizing flavors that celebrate the essence of the region.
You can savor a perfectly grilled steak, indulge in a specially crafted wild game creation, or relish the coastal delights of seafood.

Our executive chef services will elevate your dining experience. Steep yourself into the culinary artistry, where each bite tells a story of culinary excellence and showcases our determination to showcase the best local cuisine.


Inshore Fishing
Discover the enjoyment of inshore fishing with us, where a world of angling opportunities awaits, and you can:


Explore the coastal region and nearby waterways, teeming with a wide variety of prized fish species.
Get to the best spots as our experienced professionals possess extensive knowledge of these local fishing grounds.
Cast your line and target an array of sought-after species, including redfish, trout, flounder, sheepshead, and more.
Whether you prefer fishing from boats or wading along the shoreline, our guides will make sure you get the experience you expect.
Revel in the beauty of Louisiana's scenic fishing locations while relishing the joy of the catch and have an incredible inshore fishing adventure.
We Create Perfect Outdoor Adventures
We will create extraordinary outdoor experiences that surpass your wildest expectations. Our skilled guides, chefs, and captains are committed to crafting every detail of your adventure perfectly. While you're tantalizing your taste buds with culinary masterpieces from our executive chefs, immersing yourself in the serene beauty of our inshore fishing trips, or seeking the adrenaline rush of duck hunting, we guarantee an experience like no other.

Prepare to be captivated as we merge the rush of adventure with the art of culinary excellence. Brace yourself for a magnificent voyage brimming with exhilaration, flavors that dance on your palate, and timeless memories.

For more information about our Duck Hunting, Executive Chef Services, and Inshore Fishing in Uptown, LA, please call WB Outfitters at 504-908-7868. You can also send us your queries through this Online Form.
We Provide Services to the Following Cities, Towns and Surrounding Regions of LA: