Fishing & Hunting Services in New Orleans, LA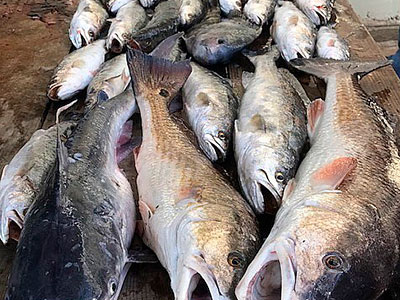 WB Outfitters is the ultimate choice for outdoor experiences that cater to all levels of anglers and outdoor enthusiasts. With our well-versed guides and captains, we provide you with adventures in the stunning waters of Louisiana. We pride ourselves on going the extra mile to create outstanding experiences that exceed your expectations.

Step into inshore fishing, where you can navigate the pristine coastal waters and reel in various prized catches. Our expert guides will take you to the prime fishing spots, ensuring you can land redfish, speckled trout, flounder, sheepshead, and more.


Inshore Fishing
Our inshore fishing service is designed to provide an exhilarating experience as you navigate the pristine coastal waters. Our expert guides have an intimate knowledge of the local bayous, marshes, and estuaries, ensuring you have the best chance of reeling in diverse prized catches.

The inshore waters offer abundant opportunities for a memorable fishing tour, from redfish and speckled trout to flounder and sheepshead. If you prefer casting from the boat or wading along the shoreline, our knowledgeable guides will ensure an exciting and successful day on the water.


Offshore Fishing
Our offshore fishing service is second to none for those seeking a more adventurous fishing experience. Venture into the open waters of the Gulf of Mexico and target a range of prized game fish, including tuna, mahi-mahi, snapper, grouper, and more.

Equipped with state-of-the-art gear and modern technology, our captains will guide you to the best fishing spots to test your skills and land a trophy-worthy catch. We have seasoned offshore anglers and novices as customers. Our team will provide a superb offshore fishing experience that will leave you with memories to last a lifetime.


Fly Fishing
Discover the art and finesse of fly fishing with our specialized fly-fishing service. Enjoy the tranquility of the picturesque waters as you perfect your casting technique and pursue a variety of freshwater species. Our knowledgeable guides will introduce you to the best fly-fishing locations, where you can target species such as bass, panfish and even challenging and elusive species like muskie or pike. We have seasoned fly anglers and beginners eager to learn on our trips. The guides will provide personalized instruction and ensure a rewarding and memorable fly-fishing experience.

Our commitment to customer service extends beyond the water. We provide top-of-the-line fishing equipment, including high-quality rods, reels, and tackle, to ensure you have the best tools for a successful outing.

Our guides are experts in their field and passionate about sharing their knowledge and love for fishing with you. They will provide valuable insights, techniques, and tips to help you maximize your time on the water.


Our Fishing Adventures
As you start on your fishing adventure with us, rest assured that your safety and comfort are our top priorities. We maintain our boats meticulously, and they are equipped with all the necessary safety features. We adhere to strict safety protocols and regulations to ensure a worry-free experience for you and your fellow anglers.

Whether you're seeking an inshore expedition, an offshore fishing extravaganza, or the artistry of fly fishing, we have the service that will exceed your expectations. Call us for an incredible fishing experience in the stunning waters of Louisiana.

For more information about our services and packages, please call WB Outfitters on 504-908-7868. You can also send us your queries through this Online Form. We promise you the adventure of a lifetime, and excellent service to help you create the best memories.
We Provide Services to the Following Cities, Towns and Surrounding Regions of LA: