Fishing Guide Services in Lakeview, LA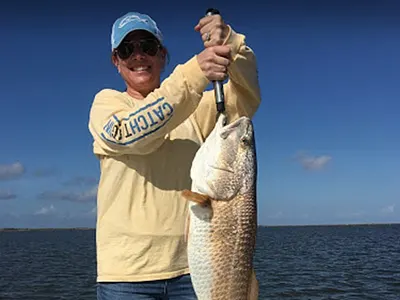 WB Outfitters is the leading gateway to a world of unparalleled fishing tours and adventures. Whether you're a skilled angler wanting to test your expertise against the bayou's challenging waters or a novice waiting to experience the thrill of reeling in your first catch, WB Outfitters is committed to providing exceptional fishing experience in Lakeview, LA, that caters to all levels of expertise.

The resources and expertise we bring to your angling adventure underline our commitment to excellence. We have the latest in advanced technology, ensuring you have access to cutting-edge equipment and the most up-to-date fishing boats.

But it's not just about the tools; our team of seasoned guides, with their in-depth knowledge of the local waters and species, is here to ensure that you not only catch fish but also gain a deeper understanding of the aquatic world. We offer a wide range of services that go beyond the waters.


Inshore Fishing
Our inshore fishing service in Lakeview, Louisiana, reflects the excitement of angling within the brackish waters of the region. With a focus on species like speckled trout, redfish, and flounder, our seasoned guides will lead you through the intricate network of bayous, bays, and estuaries, creating an immersive and hands-on fishing experience.

Lake Pontchartrain, the largest saltwater lake in the United States, is a primary destination, offering an accessible and abundant fishing experience. Barataria Bay, with its shallow waters and marshes, adds to the adventure, promising exceptional catches. Whether you're a seasoned angler or a novice, our inshore fishing service caters to all levels of expertise, providing an unforgettable angling journey in the heart of Lakeview, LA.


Offshore Fishing
Our offshore fishing service at WB Outfitters embodies the essence of deep-sea angling adventures. Situated in the heart of Lakeview, Louisiana, we provide anglers with the exhilarating opportunity to target an impressive array of big game fish. From the majestic swordfish to the lightning-fast wahoo, the acrobatic dolphin to the powerful yellowfin tuna, the elusive blackfin tuna to the delectable snapper, and the robust grouper to the elusive cobia – our offshore adventures promise a diverse and rewarding fishing experience.

With the vast expanse of the Gulf of Mexico as our playground, our seasoned guides, armed with their extensive local knowledge, will expertly navigate you to the most promising locations for an unforgettable fishing journey. The deep-sea thrills and epic adventures that await you offshore are unparalleled, ensuring that you can create memories to cherish for a lifetime.


Fly Fishing
Our company also offers a fly-fishing service in picturesque Lakeview, Louisiana. Our fly-fishing experience is an art form, allowing you to immerse yourself in the delicate precision of this angling technique. Focusing on targeting species like redfish and speckled trout, we guide you through the serene waters of Hopedale and Empire, where the marshes and shallow estuaries provide an ideal backdrop for fly-fishing.

Hopedale, with its extensive marshes and shallow waters, presents a perfect environment for fly anglers seeking to master their casting techniques. The challenge of reeling in redfish and speckled trout in this tranquil setting creates a unique and rewarding experience.

In Empire, situated at the mouth of the Mississippi River, you'll find a haven for fly fishing amidst the brackish waters and serene surroundings. Here, the pursuit of redfish and black drum, set against a backdrop of natural beauty, promises a truly memorable fly-fishing adventure.

From guiding you through the intricacies of inshore and offshore fishing to imparting the delicate art of fly-fishing, our dedication to your experience is unwavering. The joy of fishing is not just in the catch but in the journey itself. For information about our fishing services in Lakeview, LA, please call WB Outfitters on 504-908-7868. You can also send us your queries through this Online Form.
We Provide Services to the Following Cities, Towns and Surrounding Regions of LA: